by Will Mahoney-Watson
Google Analytics is one of the most widely used tools for website owners to analyze their viewers. Available free from Google, it can provide a wealth of valuable information about who is visiting your site and how they got there. But the sheer volume of information can be overwhelming, so this article will focus on some of the key metrics that all website owners should understand.
Here is a sample report from a small business website. Google Analytics reports are highly customizable, but we will focus solely on the standard report displays.
Audience Overview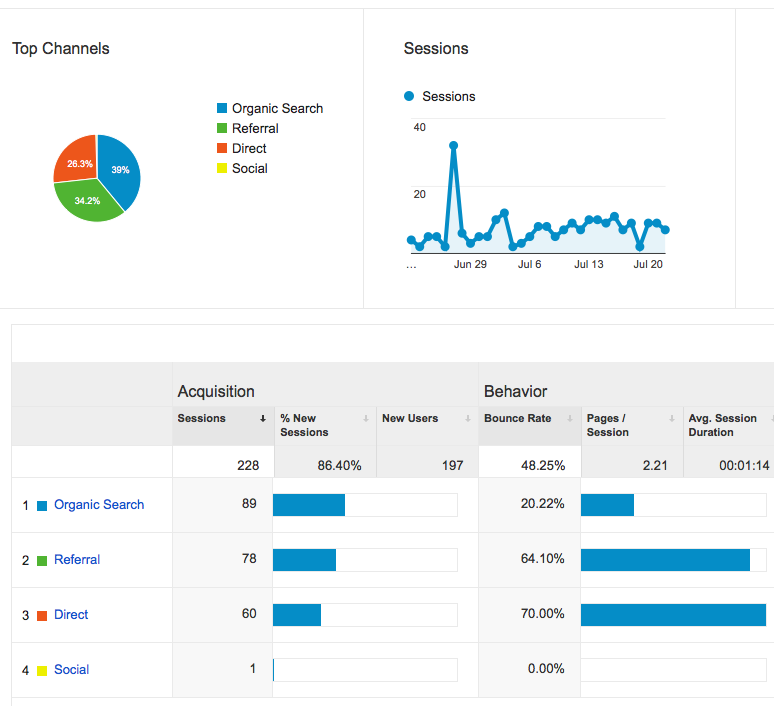 The line graph displays the total number of daily sessions for the last month. A session is a period of time that an individual user is engaged with the website, regardless if they view one page or many of them. Users are the total number of individuals who have viewed the site, including both new and returning visitors. The pie chart displays the percentage of new and returning users.
Bounce Rate is an important indicator of the website's effectiveness. The bounce rate is the percentage of single-page visits. In this example, 48% of the users viewed one page of the website, then left the website. This is a fairly typical percentage, since some viewers will be satisfied with the information they found on just one web page.
However, a high bounce rate of over 70% indicates that most of the users are not finding the website engaging enough to click on a second page. The website most likely needs fresher and more engaging ("stickier") content to entice viewers to explore it.
At the bottom of the report are some useful user Demographics. The standard display shows the languages of the users. If you have an English-only website and are seeing a lot of visitors with other languages like Russian or Chinese, that's a red flag warning that hackers may be trolling your site.
Acquisition Overview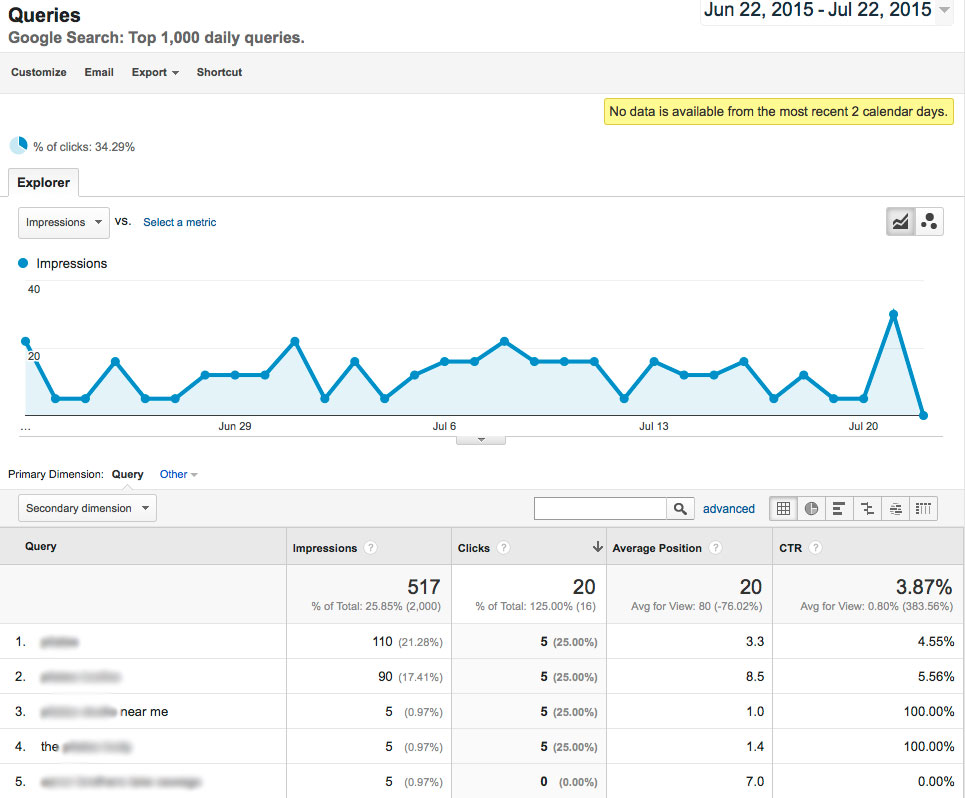 This important graphic tells you where you acquired your visitors, using these channels:
Organic Search – the user came from an unpaid search on a search engine
Referral – the user came from a link on a website that is not social media
Direct – the user typed your web address or used a bookmark
Social – the user came from a link on social media
Paid Search – the user clicked on an ad that you paid for
Email – the user clicked on a link in an email
In the above example, this business is not using paid advertising or email marketing. It probably needs to build up its social media presence to reach more users.
Queries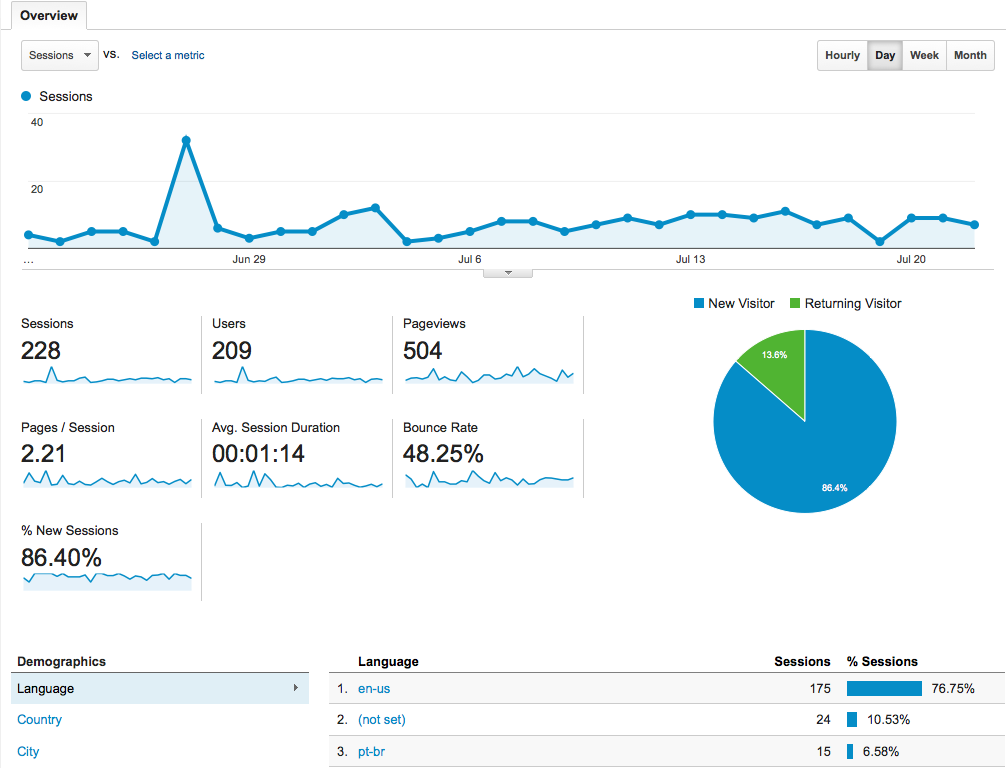 Queries is one of the most important tools in Google Analytics because it shows you which terms people are using to search for your website. In the example above, the search terms are obscured for privacy.
The first query is a one word description of their line of business. It created 110 impressions, which are the number of times the website was seen by a viewer using that search term. Five of the 110 viewers actually clicked on the link, resulting in a Click-Through-Rate (CTR) of 4.55%.
The Average Position is the all-important average ranking on the search engine results. A score of eight means that there are seven other businesses listed above theirs. This is one of the most important metrics for Search Engine Optimization (SEO) experts.
Google Analytics may just look like graphs, charts and numbers, but they tell a story about the health of your site leaving clues about what's working and what needs improvement.
If Google Analytics is not set up for your website or if you want to improve your Analytics results, you'll need a webmaster with SEO expertise. The WebProdigy team is highly skilled with SEO strategies and techniques. You will want to strategize together to align your website goals with your business goals for a successful return on your website investment.
___________________________
About the author
Will Mahoney-Watson works with WebProdigy and teaches Web Design at Portland Community College.
___________________________
Related article
https://webprodigy.com/wp-content/uploads/2015/07/understanding-google-analytics.png
336
702
Lynn Hardy
https://webprodigy.com/wp-content/uploads/2015/03/web-prodigy-logo1-300x68-1.png
Lynn Hardy
2015-07-24 18:28:28
2015-07-24 18:28:28
Understanding Google Analytics